Rose tea is said to have a soothing effect and be helpful in getting a good night's sleep. Does this ring true for you? Have you ever tried rose tea before bed? Let us know if rose tea makes you sleepy below!
What is rose tea and where does it come from?
Rose tea is a vibrant reddish-pink beverage that features the bold flavor of cured rosebuds (the dried flowers of the Rosa Damascena plant). Rosa Damascena has been used for thousands of years in Eastern cultures as both an ornamental and medicinal plant. A member of the Rosaceae family, its common name comes from the Greek word "roton," which means "bramble" and the Persian phrase "gol e damak," which translates to, "rose waters." This member of the Rosaceae family is indigenous to Asia Minor and Northeastern Iran. The ancient Greeks valued it for its medicinal properties such as aiding in digestion and helping to ease anxiety and insomnia.
What does rose tea taste like?
Rose tea has notes of tart fruit flavors along with the bold, unmistakable taste of roses. This brew is coppery-pink in color and can have a flowery flavor with hints of apple, strawberry, or raspberry. In addition to the distinctive taste of rose petals, this brew is known for its antioxidant-rich properties.
Rose tea health benefits
The rose plant has been used in traditional medicine for thousands of years. In ancient Greece, the flowers of Rosa Damascena were used for a variety of ills—from anxiety and insomnia to indigestion and depression. Modern science has since proven that these flower buds hold significant antioxidant and anti-inflammatory properties.
Today, rose tea is known for its many health benefits.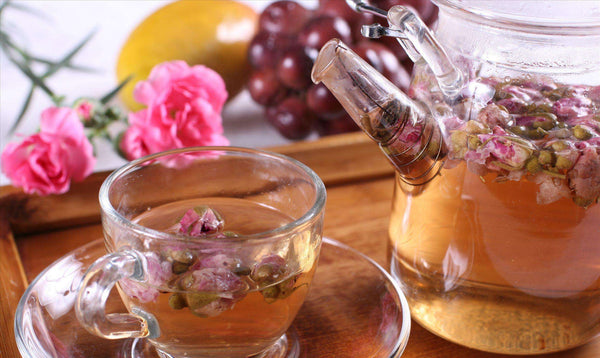 Rose tea is believed to stimulate the immune system, ease inflammation and promote good digestion, among other things. Research shows that rose tea may help fight cancer. It is also high in vitamin C, which supports the immune system and improves general health. The flowers are used in aromatherapy for their calming effects.
Are there any risks associated with drinking rose tea regularly?
Rose tea also contains tannins, which affect how fast our bodies absorb iron, so people who suffer from anemia need to avoid it.
The flowers contain carotenoids and citric acid, which make it mildly acidic.
People with heartburn and other stomach problems may want to avoid tea brewed from rosebuds and other flowers.
Rose tea can cause nausea and vomiting if taken in excess.
Is rose tea good for high blood pressure?
No, rose tea can increase your blood pressure.
Moreover, it contains caffeine which is a known stimulant and can also cause high blood pressure.
Rose tea can also have side effects. For instance, caffeine in it can cause nervousness, irritability, and insomnia.
What is more, rose tea may also cause high potassium levels in your blood.
Does rose tea make you sleepy?
Yes, rose tea contains sleep-inducing properties.
It may also help ease the body and mind which is good for insomnia.
So, it can be beneficial for those with insomnia.
However, this may not work for some people.
What is more, if you are taking medications for insomnia, you should not drink rose tea.
What is more, it contains caffeine which is a known stimulant and can also exacerbate insomnia.
On the other hand, it can cause heartburn and nausea.
Moreover, rose tea may cause depression if consumed in a high amount.
In addition, it may have a laxative effect if consumed in a large amount.
Final
After reading this article, do you think that rose tea can may you sleepy? Have you noticed any changes in your sleep patterns since drinking it? Do you have anything to add about the health benefits of rose tea or its effects on people who suffer from insomnia? We'd love for our readers to leave their comments below.