Origin:  Anhui,  China
Net Weight: 30g / 1 oz.
Expired Date: 12 Months
Storage Conditions: Dry, Refrigerated, No odor, Well-Sealed, Sunshine Shielded, Low Temperature.
What is the Gomphrena flower?
Gomphrena, also known as Globe Amaranth, is a captivating flowering plant with vibrant, globe-shaped blooms that come in a variety of colors. Our Gomphrena flowers are carefully cultivated and handpicked at their peak to ensure their freshness and visual appeal. With their long-lasting nature and ornamental beauty, these flowers make a delightful addition to floral arrangements, home decorations, and craft projects. Discover the charm and versatility and elevate your floral experiences with its captivating presence.
What are the health benefits of dried Gomphrena flowers?
Dried Gomphrena flowers offer a range of health benefits that make them an excellent addition to your wellness routine. Packed with antioxidants, these vibrant flowers help combat free radicals and protect the body from oxidative stress. They are also known for their anti-inflammatory properties, which can help reduce inflammation and promote overall well-being. Additionally, they are rich in vitamins and minerals, including vitamin C, which supports a healthy immune system, and potassium, which aids in maintaining proper heart function. These flowers are also believed to have calming and soothing effects, making them a popular choice for herbal teas and infusions. Incorporating it into your daily routine can be a natural way to enhance your health and well-being.
What should we do if we want to buy this product?
If you want to get a wholesale sample or place an order for a large supply, please send your inquiry to LEOTEAWORD@GMAIL.COM. Our sales representative will contact you within 24 hours.
How to make Gomphrena flower tea?
To make the tea, put 5g of dried Gomphrena flower on the tea strainer and any boiling water. After 30 minutes, you can get the drink by sieving the waste. The drink is better for your liver due to its choline contained in dried globe amaranth flowers.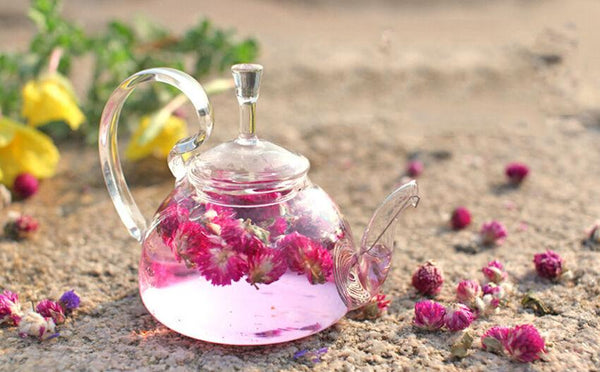 Is there any caffeine content in the Gomphrena flower?
There is no caffeine in dried globe amaranth flower.
How to store this product?
Generally, we recommend that you must keep it in a cool and dry place with low temperature. In addition, you should pay attention to sealing the package well after taking out all of our products. It can be stored for 24 months from the production date.
Are there any side effects of Gomphrena flower?
There are no side effects in dried globe amaranth flower tea drink, and it will be helpful to your health.