There are many different kinds of tea, but blooming tea is something special. It's not just another kind of herbal tea; It's an aesthetic performance that will delight your eyes. Blooming Tea Balls offer benefits for health and are more enjoyable because they're so beautiful to look at. But before you get too excited about this new trend in the world of teas, there are some things you should know…Let's explore more about Flowering tea balls (Blooming tea) including the history and brewing tips.
What are Blooming Tea Balls?
Tea balls also called blooming tea flowers, are balls of dried herbs that expand into beautiful flowers when dropped in the boiled water. They're made with delicate leaves and flower petals to create an eye-catching show that blossoms before your eyes. The flower inside the tea ball first unfolds like a tightly folded bud. As it slowly unravels, petals unfurl into a bloom that is absolutely stunning.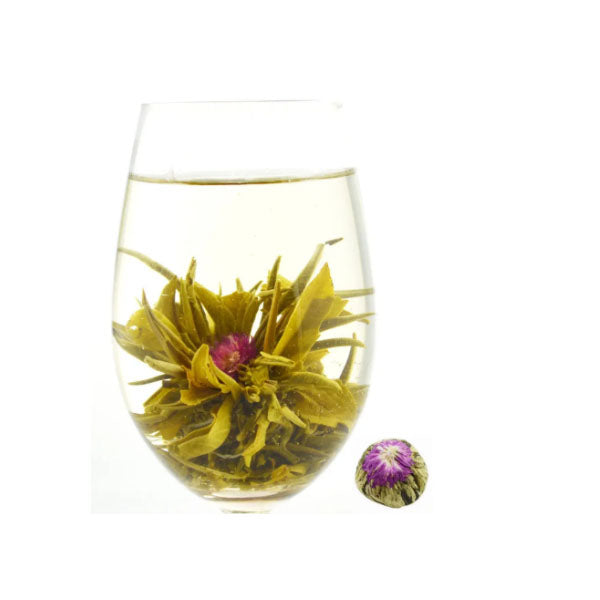 The History of Blooming Tea Balls
Blooming tea balls have been around since the Tang Dynasty in China, circa 800 A.D. Women would form the ball by wrapping dried tea leaves around dried flowers to create fragrant bouquets they could display in their homes. The tradition stuck, and today blooming tea balls are often given as gifts because of the gift of sight they provide with each brew.
The history of flowering teas goes back centuries to China when it was initially brewed for their visual performance and not consumed because the leaves were made of low quality.  In Chinese traditional culture, blooming tea is associated with harmony and happy existence. which is why it's come from China to all the other countries with new folding techniques to achieve variants of blooming styles. Today you can find many types of flowering tea balls made from not only green tea leaves but also oolong, black or white teas as well thanks to their delicate flavors.
Different Types of Flowering Tea
There are three types of blooming tea:
1. Unfurled Flowering Tea – this is where a new type of leaf unfolds into a flower and is generally made with high-quality green, white, oolong, red, or black tea leaves.
2. Ball-Shaped Flowering Tea – this is where the ball unfurls and exposes its contents inside. The ball is generally made with high-quality white tea leaves.
3. Multi-layered Flowering Tea – this type of tea has multiple layers that are revealed one at a time in the same ball shape until you reach the bottom layer. It can be made with any type of tea depending on the manufacturer's choice.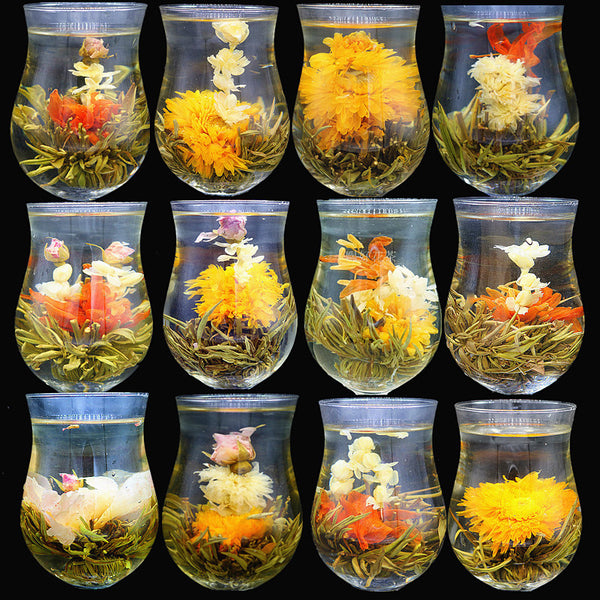 How Is Flowering Tea Made?
Tea plants are pruned to a height of approximately three feet, and then hand-picked in the very early morning, just as the buds begin to open. Once harvested, they're sewn out by hand, and flowers are woven into them in different styles. Depending on the intricacy of an artist's design, these patterns might take anywhere from a few minutes to several hours to complete. Flowers from jasmine tea, chrysanthemum, and other species may also among others before being shaped into a ball form with some withered and dried once shaping has been completed.
They are then packed for sale as part of tea sets or as loose-leaf teas before being sold to customers all around the world!
How To Store Blooming Tea?
Most blooming teas can last 2-3 years in their dried form if stored properly.
To ensure the tea is best shaped for drinking, preferably don't shake or move it too much during storage as this can cause some wrinkles to appear on the leaves which are perfectly fine but may not make for a good show when brewed.
Move them around every once in a while though to give them a little space if needed.
Store your flowering tea in a cool, dry place away from sunlight and moisture to ensure the best bloom when brewed.
Tips For Brewing Blooming Tea
Brewing a pot of flowering tea is an easy and delicious way to enjoy a cup of tea. Blooming tea, also known as blooming tea or flowery green, is made from the leaves of Camellia sinensis plants which are picked when they're young and tender. The tips below will help you brew the perfect pot every time!
– The best taste will be had with fresh spring water. When you cook with tap water, it will have chemicals and elements that may harm your health and taste. The distilled water can rob the tea leaves of some of their natural flavors.
– If using a teapot made of Purple clay or stainless steel, the flowers won't unfurl in their full beauty. so make sure it's made of high-quality glass.
– Brew with boiled water at a temperature between 155 and 180 degrees F. If your tea contains green tea leaves. If it's made with black, oolong, or Pu-erh tea leaves, the ideal water temperature is between 205 and 215°F.
How to Brew Flower Blooming Tea
Brewing blooming tea is a simple process that anyone can do. After all, it's just like making regular tea! Here are the steps you need to take:
1) Boil the water in your pot to the right temperature(white-green teas should be brewed at lower temperatures; black, Pu-erh, and oolong teas at higher).
2) Place your blooming tea ball in a glass teapot. Pour hot water on top of it. Steep for 5 to 10 minutes.
3) Pour into cups and enjoy! It doesn't get much easier than that!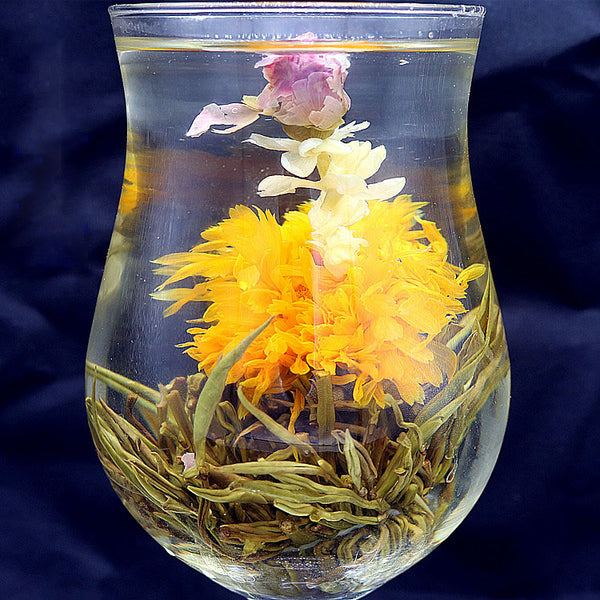 Enjoy Flowering Tea from Senses
Tea flowers are a lovely addition to your tea party and can be enjoyed anytime on their own. For those of you who love tea as much as we do here at Tea Forté, the blooming teas offer an opportunity to experience tea in a whole new way. Here's what else they have to offer: It makes a fantastic gift for any occasion; They're perfect for garden parties or just enjoying with friends; You can enjoy them right in your home. And don't forget – they make great housewarming gifts too!