If you're a fan of tea, then you've probably wondered where it comes from. Tea production takes place all over the world, but China is responsible for the majority of the world's tea output. In this blog post, we'll take a closer look at the area in China where most of the world's tea is produced. We'll also discuss some of the unique aspects of Chinese tea production that make it so special. So if you're interested in learning more about tea origins, keep reading!
Brief History of Chinese Tea
Tea production in China is a very old tradition. According to legend, the history of tea as a drink began during the reign of Emperor Shennong (2737 B.C.). In this time period, Shennong(神农) tested hundreds of plants to determine their medicinal properties. Legend has it that one day he cut his finger after hacking at a shrub of a bush with his axe. As his blood touched the leaves, they turned brown and started to emit a smell similar to that of chrysanthemum flowers. The emperor decided to try some of the plant's leaves for himself and found them delicious. He then boiled some water and made a drink from these leaves.
Surprisingly, there are no contemporary records of tea being drunk during this time period. Tea wouldn't be documented again until the Tang Dynasty (618-907) when another story would give new life to Chinese tea culture. It seems that a Zen Buddhist monk living in China during the Tang Dynasty was preparing some tea one day when he bit into a leaf and found it extremely bitter. The monk thought that the tea was ruined, but after seeing a few drops drying on his kettle he decided to give it another try. As he drank the tea, he noticed how much better it tasted than before.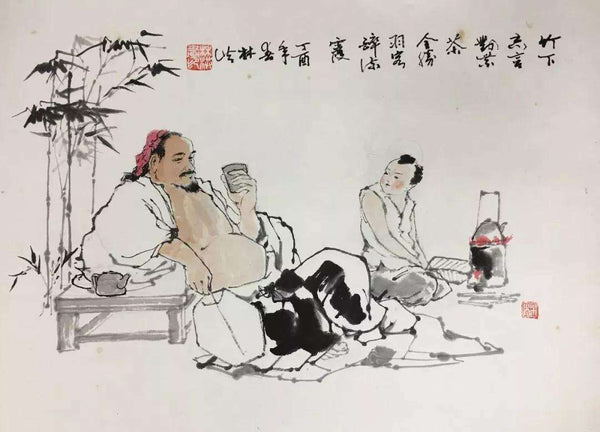 The major tea production area in China
1. Yunnan Province
is the principal source of tea trees in China. Tea trees growing in this region account for more than 60 percent of the total, and about 70 percent of them grow at altitudes between 1,500 and 2,200 meters.
High mountains make up 92 percent of Yunnan province, so it is suitable for planting tea forests. Many famous teas, such as white tea Pu'er, black tea Lapsang Souchong and Dianhong black tea, are produced in Yunnan.
Yunnan's environment for growing tea is ideal – it has abundant rainfall (more than 2,500 millimeters annually), rich vegetation, and abundant sunshine. The province is also close to large tea-producing regions in Southeast Asia and has a mild climate, which is suitable for the growth of tea trees. The province used to be part of the ancient Tea Horse Road, and its mountainous terrain and convenient transportation have made it an important area for growing and trading teas.
Because of these favorable conditions, Yunnan's annual output accounts for more than half of the total nationwide and more than 90 percent of all tea produced in southwest China.
Tea trees cover nearly 300,000 hectares of land in Yunnan and yearly output is about 1.1 million tons. With such a high production capacity, the province has become one of the main suppliers of raw materials for producing Chinese teas as well as for tea trees for planting abroad.
Yunnan has 136,000 hectares of land for growing and processing tea and 9,521 hectares is strictly protected as forest land.
2. Fujian province
is the largest tea-producing area in China and more than 50 percent of Chinese black teas come from this region.
The coastal province, with ample rainfall and subtropical monsoon climate, is situated at a latitude of 25 degrees north and a longitude of 118 degrees east and faces the South China Sea to its south. The mild climate is suitable for growing tea trees.
Fujian's total land area of 36,000 square kilometers is one-sixth that of China and includes more than 3,000 islands and coastal areas in the East and South China Seas. The province has a well-developed transportation network and good connections with Hong Kong and Taiwan. There are three major ports in the region – Fuzhou, Xiamen, and Zhangzhou.
Tea trees occupy more than 60,000 hectares of forest land in Fujian province; the annual output of tea is about 430,000 tons. Black teas account for 90 percent of all tea produced here while green tea accounts for only 10 percent. The province has 12 large and medium-sized tea companies and about 100 small and tiny production enterprises. Since the 1980s, Fujian has been investing more than 2 billion yuan annually to expand its tea planting areas.
3. Anhui province
Anhui is a big tea-producing region in China and produces mainly black teas such as Yunwu (Cloud and Mist), Huangshan Maofeng (Yellow Mountain Fur Peak), and Lu An Guapian (Green Snail Spring Green).
Anhui is one of China's oldest tea-producing areas, with a history of more than 1,000 years. The total land area of the province is 102,300 square kilometers, including 446 mountains with an average height of 1,000 meters. The province has abundant rainfall (up to 2,000 millimeters annually) and is blessed with a mild climate.
Tea trees occupy 60,000 hectares in Anhui and the annual output is about 330,000 tons; black teas account for 90 percent while green tea accounts for only 10 percent. The province has more than 60 companies that produce tea on a large scale, including Anhui Meijiawu Tea Company with an annual production capacity of 1 million tons.
4. Zhejiang province
The province is situated along the southeast coast of China and faces Hangzhou Bay to its south. There are mountains both to the north and the south, and the area along the coast is well-developed.
Zhejiang province has a climate of frequent rainfall and high humidity in summer; it is suitable for growing tea trees. The province has abundant rainfall (1,500 millimeters annually) and warm weather (average annual temperature of 16 degrees centigrade), which are very suitable for growing tea trees.
The area of tea gardens in the province is about 40,000 hectares, while the annual output is nearly 300,000 tons. Black teas account for 90 percent while green teas only account for 10 percent. Zhejiang produces mainly black teas such as Haiwan Chunmee (Ocean Fair Spring), Meijiawu, and Wenshan Baozhong (the most famous tea in China), which is a premium long-leaf tea that is produced in the southern part of the province. And Quzhou Huoshao Cha, a black tea with a strong floral aroma, has been listed as one of China's top ten teas. 
5. Taiwan province
The climate is subtropical and rainfall is abundant. The annual average temperature of 18 degrees centigrade on the coast makes Taiwan one of China's tea capitals with its tea gardens taking up 30,000 hectares, producing more than 250,000 tons of black teas annually.
Taiwan also produces green tea which accounts for 50 percent of its tea production and black tea which accounts for 40 percent. The remaining 10 percent is Oolong tea.
Taiwan's main black teas include Dongding Oolong, Dahongpao (Tung Ting), and Qiandaohu (Golden Water Bay). And the famous Taiwan oolong tea – Dongding Oolong Tea – is grown at the base of Taiwan's highest peak, Mount Ali.
6. Guangdong province
Guangdong has a subtropical monsoon climate, with abundant rainfall and warm weather. It has long been known as "the first place to produce tea." The annual average temperature is 19 degrees centigrade and there are 2,500 hours of sunshine each year.
Guangdong is one of the most populous provinces in China with a population of 96 million. Besides Hong Kong and Macao, Guangdong has 120 tea companies that produce black teas on a large scale. The province has more than 800,000 hectares of tea gardens where more than 400 varieties of tea trees are planted, accounting for half of China's tea varieties. Guangdong produces some 38,000 tons of green tea annually and 300,000 tons of black tea.